A Natural Sweet Enhancer
to Reduce Sugar Usage
Natural Sweet
Enhancer Attributes
ANP and FSI can help customers with the major sugar problem that is starting to take affect now in both the food and beverage industry. Our sweet flavor enhancer technology is developed using different technologies from across the food and pharmaceutical industries to create a product that enhances the sweetness of foods and beverages naturally. The flavor technology systems will either enhance the sweetness of sugar in the product or it can help reduce the amount of sugar in the product without sacrificing taste. Our sweet flavor systems can either be liquid or powder for almost any application where reducing sugar and calories is a priority. Please read below on how all segments of the food industry are being affected and how we can help you manage these potential issues.
Sugar Coming Under Scrutiny with
New Taxes and Label Regulations
A global spotlight is shining down on sugar in the days to come which will cause this infamous additive to have a darker future than ever before. Below you can see the various governments views on sugar in products.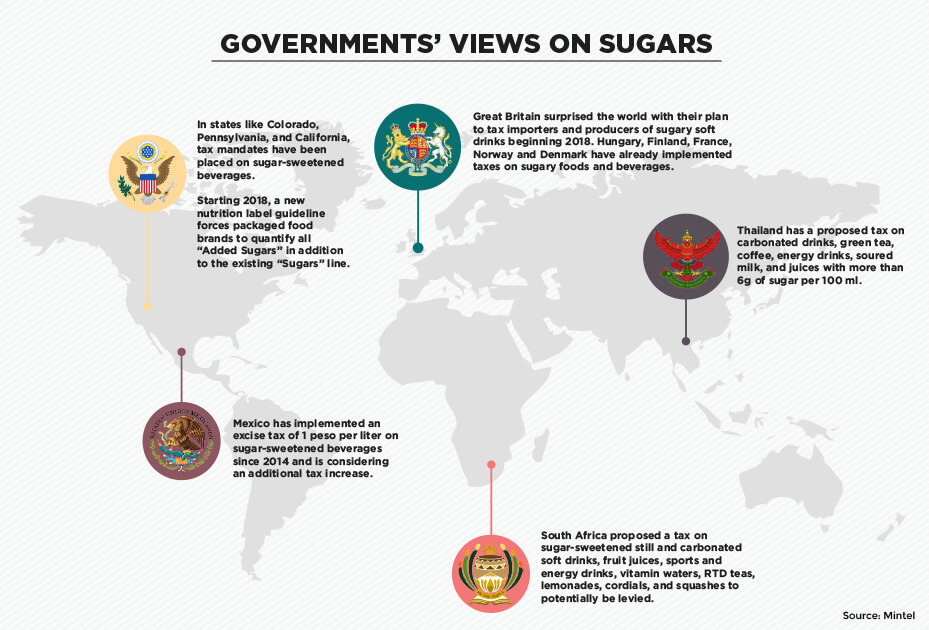 As of today sugar taxes are already starting to come down on the beverage industry with force worldwide. Mexico implemented a sugar-sweetened beverage tax and within the first year, purchases of taxed sugary beverages declined to 12% by December 2014 (British Medical Journal). According to a study published in the American Journal of Public Health, research predicts that a 10% reduction in sugary beverage consumption among adult men could result in about 189,300 fewer cases of type 2 diabetes. Research such as this is significant to the food and beverage industry because it is linking sugary soft drink consumption to obesity and diabetes. Eventually any sugary food product, beverage or snack will be linked to obesity and diabetes .
With over 400 million adults with diabetes around the world, we predict that the scrutiny on sugar, added or naturally occurring, will flow into food categories such as dairy, snacks and baked goods. The idea of taxing sugary packaged goods could especially be promoted by. Global governing bodies are starting to promote the idea of taxing other sugary packaged goods. These governing bodies are actively looking for ways to solve and address public health issues such as obesity and diabetes. Governments are not fighting this battle on sugar alone. As you can see in the image below that consumers and advocacy groups are placing pressure on food and drink manufacturers to reduce the amount of sugar and its overall health impact.
Consumers' Views
On Sugars
The Quest of 0g
of Added Sugars
A newly designed "Nutrition Facts" label will require U.S. food and drink manufacturers to declare the amount of "Added Sugars" in grams to the label. Because of the potential consumer backlash against "Added Sugars," packaged food, beverage and snack companies are scrambling to reformulate and reduce sugar count wherever possible. ANP/FSI already has the perfect way to solve these issues. ANP/FSI's Natural Sweet Flavor Enhancer is a flavor that helps reduce the amount of added sugar to your product without compromising your clean label. ANP/FSI accomplish this difficult task but using different technologies from various industries to achieve this remarkable product without the use of adding artificial or natural sweeteners. In many cases we can achieve a 30-50% sugar reduction in your product and its label as a Natural Flavor, because that's what it is. Click on the three flavor options, liquid or spray dried, to download the specification.
Natural Sweet Enhancer
Products